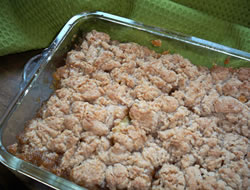 Directions
Preheat oven to 375 degrees F.
In a 9 inch square baking dish, mix apples and brown sugar.
In a large bowl, mix together the flour, white sugar, cinnamon and salt.
In a small bowl, beat together the egg and melted butter. Stir into flour mixture.
Spread evenly over the apples. Bake for 30-40 minutes, or until topping is golden and crisp.
Prep Time: 30 minutes
Cook Time: 40 minutes
Container: 9-inch square baking dish


Ingredients
-
4 apples, peeled, cored and sliced
-
1/2 cup brown sugar
-
1 cup all-purpose flour
-
3/4 cup white sugar
-
1 teaspoon ground cinnamon
-
1/4 teaspoon salt
-
1 egg, beaten
-
2 tablespoons butter, melted