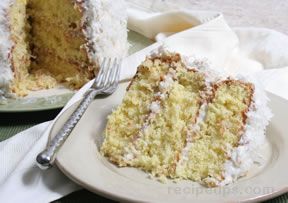 Directions
CAKE:
Grease and flour 3 8-inch cake pans and set aside. Preheat oven to 350 degrees F.
In a large mixing bowl, mix the cake mix, pudding mix, water, eggs, and oil together until just blended.
Once blended, beat on medium speed for 4 minutes.
Stir in the 2 cups of coconut until evenly distributed.
Pour evenly into prepared cake pans. Bake for 30 to 35 minutes or until a toothpick inserted in the middle comes out clean.
Cool for 15 minutes before removing from the pans; allow to cool completely on racks.
FROSTING:
Place 2 tbsp. butter in a pan and melt over low heat. Add 1 3/4 cups of coconut to the melted butter and cook over low heat until golden brown; stir continually while browning coconut.
Remove from the heat and spread the coconut out over some paper towels to cool.
Cream the remaining butter with the softened cream cheese.
Add the milk and vanilla; gradually mix in the powdered sugar.
Stir in the browned coconut by hand.
Assembly the three layers of cake, applying a layer of frosting between each layer.
Frost the top and sides of the cake. Spread frosting so the surface is fairly smooth.
Take the remaining 1 1/4 cup of unbrowned coconut and sprinkle on top and press onto the sides of the cake; covering it evenly with the coconut.
If not serving immediately, cover the cake and store it in the refrigerator.
Prep Time: 2 hours
Cook Time: 30 minutes
Servings: 16


Ingredients
-
CAKE:
-
1 box butter cake mix
-
1 package instant vanilla pudding - 4 oz.
-
1 1/3 cups water
-
4 eggs
-
1/4 cup oil
-
2 cups coconut
-
FROSTING:
-
4 tablespoons butter - divided
-
3 cups coconut - divided
-
8 ounces cream cheese - softened
-
2 teaspoons milk
-
1/2 teaspoon vanilla
-
3 1/2 cups powdered sugar