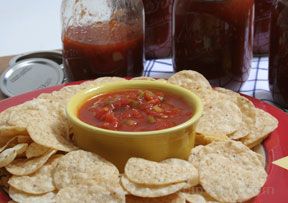 Directions
Remove the skins and chop the tomatoes.
Chop the onions, green peppers, and jalapenos into small pieces. Be sure to remove the seeds from the jalapenos before chopping.
Mince the garlic cloves.
Place these vegetables and all the rest of the ingredients into a large pot.
Cook over medium high heat until the salsa mixture comes to a full rolling boil.
While the salsa is cooking, prepare canning lids and rings by placing in a saucepan, covering with water, and bring water to a simmer. Once lids have come to a simmer, turn heat off but leave saucepan with lids on the burner and allow lids to remain in the hot water until ready to use.
After the salsa comes to a full boil carefully pour the hot salsa into canning jars.
Wipe any salsa off the rim of the jar that might have spilled when filling the jars; seal with canning lids and rings.
Set the jars aside and allow the salsa to cool completely. The jars should seal while they are cooling.
Prep Time: 5 hours
Cook Time: 1 hour
Container: Large pot, canning jars, lids and rings


Ingredients
-
24 cups skinned and chopped tomatoes
-
4 cups chopped onions
-
4 cups chopped green peppers
-
2 jalapeno peppers - add more for hotter salsa
-
6 cloves garlic, minced
-
5 tablespoons salt
-
1 tablespoon pepper
-
2 tablespoons chili powder
-
1 cup vinegar
-
2 cans tomato paste - 6 oz. can