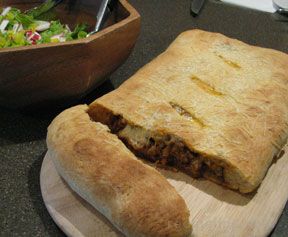 Directions
In a large skillet, brown the ground beef and sausage over medium-high heat. When no longer pink, drain.
Add onions and mushrooms to the ground beef and cook for 5 minutes more.
Add the pasta sauce and simmer for 10 minutes. Salt and pepper as needed. Allow to cool 10 minutes so the dough will not melt when putting the sandwich together.
Preheat oven to 350 degrees.
While meat mixture cools, roll out each dough into approximately 12x5 rectangles onto parchment paper. Place one rectangle onto baking sheet, including the paper.
Fill with meat mixture, leaving a 1-inch border. Carefully place remaining dough rectangle on the top. Seal the edges and fold under. Make several slits in the top of the dough to allow steam to escape.
Bake for 15-20 minutes, until golden brown. May sprinkle with parmesan cheese during the last 5 minutes of baking.
Prep Time: 35 minutes
Cook Time: 20 minutes
Servings: 8


Ingredients
-
3/4 pound ground beef
-
3/4 pound pork sausage
-
1 onion - diced
-
1 can mushrooms - drained and diced
-
1 jar marinara sauce
-
salt and pepper
-
2 packages french loaf dough - Pillsbury refrigerator dough
-
1/4 cup parmesan cheese