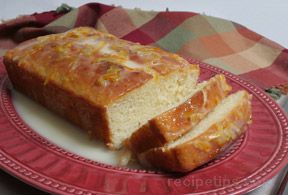 Directions
Sift together the flour, baking powder and salt; set aside.
With a mixer, combine the 1 cup of yogurt, sugar, eggs, vanilla, oil and lemon zest.
Add in the dry ingredients and mix just until combined.
Pour into a greased loaf pan and place in a 350°F preheated oven for 45 minutes or until a toothpick inserted in the center of the cake comes out clean.
Allow the cake to cool slightly in the pan.
Remove the cake from the pan and place onto a serving platter.
In a small saucepan, heat the orange marmalade just until melted and then stir in the 1/4 cup of yogurt.
Remove from the heat and allow to cool slightly. Then just slowly pour the marmalade mixture over the cake and allow it to pool around the bottom of the cake.
Store covered in the refrigerator.
Prep Time: 20 minutes
Cook Time: 45 minutes
Container: loaf pan
Servings: 12


Ingredients
-
1 1/2 cups flour
-
1/2 teaspoon salt
-
2 teaspoons baking powder
-
1 cup yogurt - plain, lowfat or regular
-
1 cup sugar, granulated
-
3 eggs
-
1 teaspoon vanilla
-
lemon zest - from one lemon
-
1/2 cup canola oil
-
ORANGE GLAZE:
-
1/2 cup orange marmalade
-
1/4 cup yogurt - plain, lowfat or regular