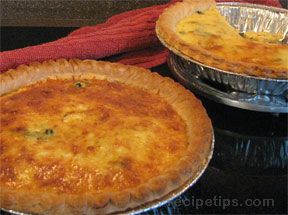 Directions
Preheat oven to 400 degrees F.
Place asparagus on a baking sheet. Drizzle with olive oil and season with salt and pepper. Bake for 12-15 minutes. Remove from oven and allow to cool.
Place bacon in a large, deep skillet. Cook over medium high heat until evenly brown. Drain, crumble and set aside.
Place the pie crust into the pie pans and form to the sides and bottom of the pan. Crimp the edges of the pie crust.
Cut asparagus into 1-inch pieces. Brush pie shells with beaten egg white. Sprinkle crumbled bacon and chopped asparagus into pie shells.
In a bowl, beat together eggs, cream, nutmeg, salt and pepper. Sprinkle Swiss cheese over bacon and asparagus. Pour egg mixture on top of cheese.
Bake uncovered in preheated oven until firm, about 35 to 40 minutes. Let cool to room temperature before serving.
Prep Time: 25 minutes
Cook Time: 40 minutes
Container: 2 9-inch pie pans
Servings: 12


Ingredients
-
1 pound asparagus
-
1 tablespoon olive oil
-
salt and pepper
-
12 slices bacon
-
2 9-inch pie crust - refrigerated or frozen pie crust can be used
-
6 eggs
-
2 cups half-n-half
-
1/2 teaspoon nutmeg
-
2 1/2 cups Swiss cheese - shredded