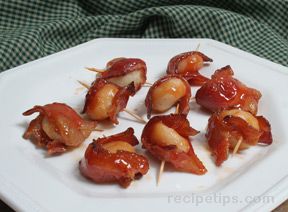 Directions
Wrap a half strip of bacon around a water chestnut and secure with a toothpick.
Place in a glass baking dish; bake for 30 minutes at 350° F or until browned.
Combine the ketchup and sugar; heat to a boil.
After the water chestnuts have baked for 30 minutes, pour the sweet ketchup sauce over the bacon wrapped water chestnuts.
Place the water chestnuts back in the oven and bake for an additional 5 or 10 minutes.
Eat while hot. They can be kept warm in a slow cooker set on warm or low.
Note: Try precooking the bacon a little before wrapping around the water chestnuts. This will help the bacon get done faster without overcooking the water chestnuts.
Prep Time: 30 minutes
Cook Time: 45 minutes
Container: 9 x 13 glass baking dish
Servings: 12


Ingredients
-
1 pound bacon, strips cut in half
-
2 cans whole water chestnuts, drained
-
1/3 cup ketchup
-
1/2 cup sugar