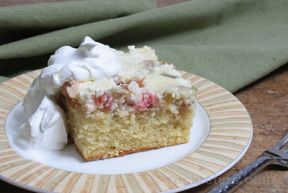 Directions
Preheat oven to 350°F.
Lightly grease a 9 x 13 cake pan.
Mix up the cake mix according to the directions on the package and pour into the prepared cake pan.
Combine rhubarb and sugar; stir until evenly mixed. Sprinkle evenly over the top of the unbaked cake mix.
Pour the cream over the top of the cake and rhubarb.
Place in the preheated oven and bake for 1 hour.
To serve, cut the cake, remove it from the pan, and flip it over upside-down. Topped with whipped cream if desired.
Store in the refrigerator.
Prep Time: 1 hour
Cook Time: 1 hour
Container: 9 x 13 cake pan
Servings: 15


Ingredients
-
1 box yellow cake mix
-
4 cups chopped rhubarb
-
1 1/2 cups sugar
-
1 pint heavy cream, unwhipped