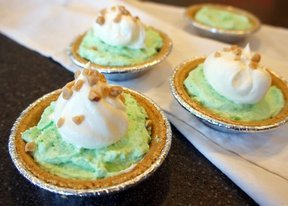 Directions
Combine the crushed graham crackers, sugar and butter in a 9x13 inch pan. Press to create a crust.
Combine the pudding, milk and ice cream with a hand mixer; then spread the mixture on top of the graham cracker crust.
Spread on the whipped topping and sprinkle with toffee bits.
Freeze overnight.
Prep Time: 15 minutes
Container: 9x13-inch cake pan
Servings: 12


Ingredients
-
24 squares graham crackers, crushed
-
1/3 cup sugar
-
1/2 cup butter, melted
-
2 packages instant pistachio pudding (3-ounce packages)
-
1 cup milk
-
1 quart ice cream
-
8 ounces whipped topping
-
1 cup toffee bits