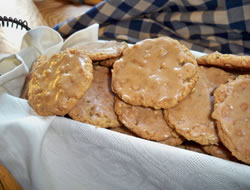 Directions
In a large bowl, mix the margarine (or shortening), white sugar, brown sugar, eggs, and vanilla until smooth and creamy.
In another bowl, blend the flour, baking soda, salt, and quick oatmeal. Add this dry mixture to the creamed mixture.
With a small scoop, drop the cookie dough onto a greased cookie sheet. Bake at 375° F for 10 - 12 minutes.
While the cookies bake, mix together all of the frosting ingredients until smooth.
Frost the cookies while still warm.
Cook Time: 10 minutes
Container: Cookie sheet
Servings: 72
Serving Size: 1


Ingredients
-
COOKIES:
-
1 cup margarine (or use 1/2 cup shortening)
-
1 cup white sugar
-
1 cup brown sugar
-
2 eggs, beaten
-
1 teaspoon vanilla
-
1 3/4 cups flour
-
1 teaspoon baking soda
-
1/2 teaspoon salt
-
3 cups quick oatmeal
-
FROSTING:
-
2 cups powdered sugar
-
6 tablespoons butter, softened
-
2 tablespoons strong coffee
-
1 teaspoon vanilla
-
1 teaspoon cinnamon