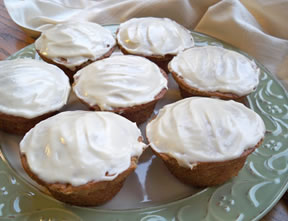 Directions
Mix shortening, banana and egg.
Add all other ingredients and then milk.
Pour into greased 9 x 9 pan or 12 cupcakes.
Bake at 350 degrees F. for 20 minutes.
Frost with cream cheese frosting or any vanilla frosting.
Recipe can be doubled and baked in 9 x 13 pan for 30 minutes.
Prep Time: 30 minutes
Cook Time: 20 minutes


Ingredients
-
1 cup flour
-
3/4 cup sugar
-
1/2 teaspoon baking powder
-
1/4 teaspoon baking soda
-
1/2 teaspoon salt
-
3/4 teaspoon cinnamon
-
1/4 teaspoon cloves
-
1/4 teaspoon allspice
-
1/4 cup shortening
-
1 bananas
-
1 egg
-
1/4 cup milk