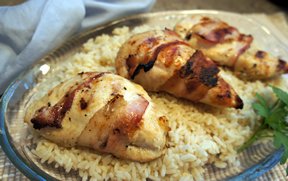 Directions
In a resealable bag or a glass bowl, combine the first 5 ingredients. Mix well.
Add the chicken breasts to the marinade, making sure that the chicken is completely covered by the marinade; then refrigerate for 2 to 4 hours.
Preheat the grill to medium-high heat.
Remove the chicken from marinade and wrap each piece with 2 strips of bacon. Secure the ends with toothpicks; then place the chicken on the grill. Discard the marinade.
Turn the chicken occasionally during the grilling process. Grill the chicken breasts until the juices run clear. The bacon should be crisp, but not burned. About 12 to 15 minutes total cooking time is required to reach the proper doneness.
Prep Time: 10 minutes
Cook Time: 15 minutes
Servings: 4


Ingredients
-
1 cup dry white wine
-
2 tablespoons olive oil
-
2 tablespoons Dijon mustard
-
1 teaspoon garlic powder
-
1/2 teaspoon black pepper
-
4 skinless, boneless chicken breast halves
-
8 slices bacon