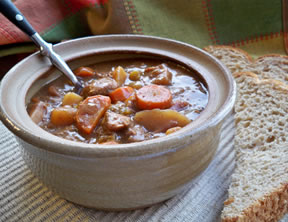 Directions
Peel and chop the potatoes into bite-size pieces.
Chop the onion, carrots (if using large whole carrots), and the celery.
Place the stew meat and the vegetables into the slow cooker.
Stir the gravy and seasoning mixes into 2 cups of water; then pour it over the ingredients in the slow cooker. Add more plain water to the slow cooker until the ingredients are covered.
Cook covered on the high heat setting for 4 to 6 hours or on the low heat setting for 8 to 12 hours.
Note: If the stew's gravy is too thin, pour some of it into a saucepan and thicken in the same manner as you would any other gravy, such as using a mixture of flour and water and adding it to the gravy; and then bringing the gravy to a boil. Add thickener and boil until the gravy is the desired thickness and then pour it back into the rest of the stew.
Prep Time: 20 minutes
Cook Time: 6 or more hours
Container: 5-quart slow cooker
Servings: 8
Serving Size: 1 cup


Ingredients
-
1 pound beef stew meat, cut into cubes
-
1 pound carrots, chopped into one-quarter inch discs (or use whole baby carrots)
-
4 stalks celery, coarsely chopped
-
5 potatoes (medium-sized), chopped into bite-size cubes
-
1 yellow onion (medium-sized), chopped
-
2 packages brown gravy mix (small envelope)
-
1 package beef stew seasoning blend (small envelope)
-
4 cups water