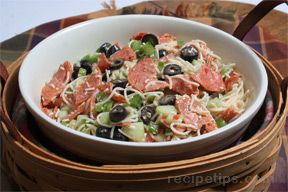 Directions
Break the pasta into thirds. Cook according to the instructions on the package. Rinse with cold water and drain.
Chop the green peppers and cucumbers. Slice the pepperoni into quarters. Combine the green peppers, cucumbers, black olives, and pepperoni in a large bowl.
Add the pasta to the vegetables, pour in the Italian dressing, and toss to mix well.
Reserve a little Parmesan cheese to sprinkle on top and then add the rest of the cheese to the pasta and vegetables. Toss lightly to distribute and then sprinkle the top with the reserved cheese.
Ingredients
-
8 ounces Angel Hair pasta
-
1 green pepper, chopped
-
1 cucumber, peeled and chopped
-
2 cans sliced black olives, 2 1/4 oz. cans
-
8 ounces sliced pepperoni
-
1/2 cup Italian salad dressing
-
6 ounces shredded Parmesan cheese