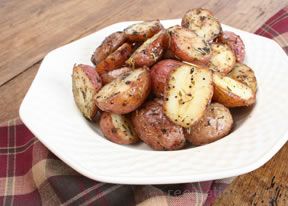 Directions
Wash the potatoes and cut the larger ones in half. Pat dry with a paper towel, poke each potato a few times with a fork, and place them in a baking pan.
Melt the butter and add the parsley, dill, and lemon juice. Stir to mix evenly.
Drizzle the seasoned butter over the potatoes, toss to coat them evenly, and sprinkle with salt and pepper to taste.
Place them in an oven preheated to 375° F.
Bake for 35 to 40 minutes or until tender when poked with a fork. Turn the potatoes once or twice through out the baking time.
Remove from the oven and serve.
Prep Time: 20 minutes
Cook Time: 40 minutes
Servings: 10


Ingredients
-
5 pounds new red potatoes
-
1/4 cup butter
-
2 1/2 tablespoons chopped fresh parsley
-
1/2 teaspoon dried dill
-
1 tablespoon fresh lemon juice
-
kosher salt
-
pepper