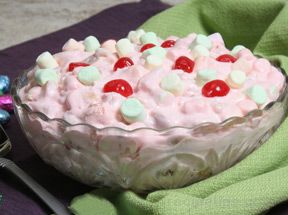 Directions
Drain the juice off the cherries and set aside to use later.
Cut the cherries in half and take 9 or 10 of the halves and put in a small bowl. These will be used to garnish the top of the salad when it is done. Place the remaining cherries in a separate bowl and set them aside.
In a medium size mixing bowl, beat the cream cheese and powdered sugar until smooth.
Add the reserved cherry juice and beat until the mixture is smooth again.
Then fold the whipped cream into the cream cheese mixture. Fold in the whipped cream until it is evenly mixed. Do not over stir.
Add the cherries (all but the 9 or 10 set aside for the top,) bananas, pineapple, and marshmallows; stir until the ingredients are evenly distributed.
Pour into a serving bowl and place the reserved cherry halves on top of the salad. Chill for completely before serving.
Cook Time: 1 hour
Servings: 15


Ingredients
-
1 10 oz. jar of Maraschino cherries, reserve the juice
-
8 ounces cream cheese
-
1/2 cup powdered sugar
-
2 cups whipped topping
-
5 bananas - ripe but not overripe, skins should be a nice yellow
-
1 can pineapple tidbits - 20 oz. can, well drained
-
3 cups miniature marshmallows - white or pastel colored