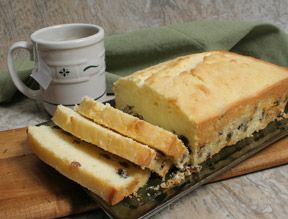 Directions
Preheat oven to 325°F.
Stray the bottom of a 9 inch bread pan with a non stick cooking spray.
Cream the butter, sugar and vanilla together on medium speed with a mixer.
Add eggs one at a time making sure that each is completely incorporated before adding the next.
Mix in the cream cheese until well blended.
In a medium bowl, sift together the flour, baking powder and salt.
Take 1/4 cup of the flour mixture and mix in with the raisins to completely coat them.
Add a small amount of the flour mixture into the batter and alternate with the buttermilk until both are incorporated.
Mix the raisins into the batter with a spatula.
Pour the batter into the sprayed bread pan and place into the preheated oven.
Bake for 80-90 minutes or until a toothpick inserted into the middle comes out clean.
While the cake is baking, combine the lemon juice with the powdered sugar to make a glaze.
Remove the cake from the oven and allow it to rest for 10 minutes. Then remove the cake from the pan and transfer it to a wire rack to cool completely.
When the cake is still warm, glaze the top with the lemon juice glaze and allow it to cool.
Wrap cake in foil and store for up to three days at room temperature.
Prep Time: 15 minutes
Cook Time: 1.5 hours
Container: 9-inch bread pan
Servings: 12


Ingredients
-
3/4 cup butter - at room temperature
-
1 cup sugar
-
2 teaspoons vanilla
-
2 eggs - at room temperature
-
3 ounces cream cheese - at room temperature
-
1 3/4 cups cake flour
-
1 1/4 teaspoons baking powder
-
1/4 teaspoon salt
-
1 cup raisins
-
2/3 cup buttermilk
-
1/2 cup powdered sugar
-
2 teaspoons lemon juice - fresh