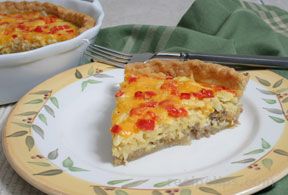 Directions
Preheat the oven to 375° F.
Brown the sausage and onions; drain off the grease.
Place the pie crust into the pie pan and form to the sides and bottom of the pan. Crimp the edges of the pie crust.
Spread the sausage out evenly on the bottom of the crust.
Spread the hash browns over the top of the sausage.
Sprinkle the chopped red peppers and cheese on top of the hash browns.
Whisk the eggs, milk, salt, and pepper together in a bowl; pour this mixture over the top of the other ingredients in the pie.
Bake in the preheated oven for 30 minutes or until eggs are firm and the crust is nicely browned.
Prep Time: 1 hour
Cook Time: 30 minutes
Container: 9 inch pie pan
Servings: 6
Serving Size: 1 piece


Ingredients
-
8 ounces pork sausage
-
3 tablespoons minced onion
-
1 9 inch pie crust - refrigerated or frozen pie crust can be used
-
1 cup shredded hash browns
-
1/4 cup chopped red peppers
-
1/2 cup Cheddar cheese
-
4 eggs
-
1/4 cup milk
-
1/4 teaspoon salt
-
1/4 teaspoon pepper