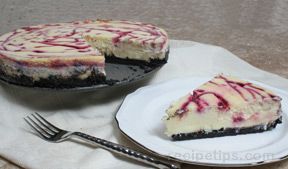 Directions
Preheat oven to 325° F.
Place a large baking sheet with shallow sides into the oven; then add water to the baking sheet, filling it to a half-inch depth.
In a medium bowl, combine cookie crumbs, sugar, and melted butter. Press onto the bottom of a 9-inch springform pan. Wrap the bottom of pan with aluminum foil.
In a medium saucepan, combine raspberries, 2 tablespoons of sugar, the cornstarch, and water. Bring it to a boil and continue boiling until the sauce thickens, approximately 5 minutes.
Strain the sauce to remove the seeds.
In a double boiler, add the white chocolate chips and the half-n-half, stirring until the chocolate is melted and smooth.
In a large bowl, mix together cream cheese and sugar until smooth. Add the eggs, one at a time, beating well after each addition. Add the vanilla and melted white chocolate mixture.
Pour half of the mixture over the crust.
Spoon 3 tablespoons of the raspberry sauce over the top.
Pour the remaining cream cheese mixture into the pan and spoon 3 more tablespoons of the raspberry sauce over the top.
Place the springform pan in the oven on the baking sheet containing the water. Bake for 60 minutes or until the filling is set. Turn the oven off, open the oven door halfway, and let the cheesecake rest in the oven for 30 minutes.
Remove the cheesecake from the oven and cool. Cover and refrigerate at least 8 hours; then serve with the remaining raspberry sauce.
Prep Time: 20 minutes
Cook Time: 1.5 hours
Container: 9-inch springform pan
Servings: 12
Serving Size: 1 slice


Ingredients
-
2 cups Oreo® cookies - finely ground
-
3 tablespoons sugar, granulated
-
1/4 cup butter - melted
-
10 ounces raspberries - thawed
-
2 tablespoons sugar, granulated
-
2 teaspoons cornstarch
-
1/2 cup water
-
2 cups white chocolate chips
-
1/2 cup half-n-half
-
24 ounces cream cheese - softened
-
1/2 cup sugar, granulated
-
3 eggs
-
1 teaspoon vanilla extract