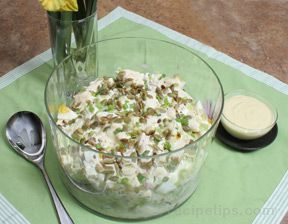 Directions
Dressing: Whisk eggs in small saucepan. Whisk in vinegar and 2 tablespoons water.
Bring to boil over medium high heat. Boil for 3-4 minutes or until thickened, stirring constantly.
Pour into medium bowl, whisk in mayonnaise, mustard and salt.
Cover and refrigerate until well chilled.
Meanwhile, cook potatoes in large pot of boiling water for about 20 minutes or until just tender.
Drain and cool. Cut into 1 inch pieces.
In large serving bowl, layer potatoes, celery, red onion, eggs, layer of dressing, green onions and sunflower seeds(or pumpkin seeds).
Chill until serving time.
Prep Time: 20 minutes
Cook Time: 20 minutes
Container: large serving bowl
Servings: 8
Serving Size: 1 cup


Ingredients
-
DRESSING:
-
2 eggs
-
1/2 cup sugar
-
1/4 cup white wine vinegar
-
1 cup mayonnaise
-
1 tablespoon yellow mustard
-
1 teaspoon salt
-
SALAD INGREDIENTS:
-
2 pounds red skinned potatoes - or white, peeled, cut in half
-
2 cups celery - thinly sliced
-
1/2 red onion - thinly sliced
-
5 hard cooked eggs, cut into wedges
-
1/4 cup green onions - sliced
-
2 tablespoons sunflower seeds or roasted pumpkin seeds