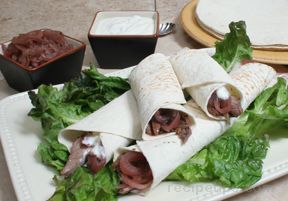 Directions
ONION JAM
Combine onions, broth, honey and thyme in large skillet. Bring to a boil.
Reduce heat to medium-low and simmer uncovered until broth is almost absorbed, stirring occasionally, about 1 hour.
Stir in vinegar, simmer 10 more minutes.
Add a little water if jam becomes dry. Onions will be a little crunchy.
Season to taste with salt and pepper.
*Can be made 1 day in advance. Store in refrigerator.
Warm just before serving.
BEEF
Preheat grill to medium.
Lay beef fillet directly on grill.
Grill approximately 7 minutes each side for medium rare, longer for more doneness.
Remove from grill and slice thinly.
HORSERADISH CREAM
Stir together in small bowl: sour cream, horseradish, white wine vinegar, salt and pepper.
*Can be prepared 1 day in advance.
TO ASSEMBLE:
Warm tortillas in microwave on high for 20 seconds or place in tinfoil and heat in 350 degree oven for about 15 minutes.
Divide sliced meat among warm tortillas.
Top with warm onion jam and a spoonful of horseradish cream.
Prep Time: 20 minutes
Cook Time: 15 minutes
Container: grill, large skillet, small bowl
Servings: 10
Serving Size: 1


Ingredients
-
ONION JAM
-
2 red onions
-
2 cups beef stock
-
2 tablespoons honey
-
1 tablespoon fresh lemon thyme - chopped, or regular thyme
-
2 tablespoons red wine vinegar
-
BEEF
-
package beef fillet (any cut)
-
HORSERADISH CREAM
-
4 teaspoons horseradish - prepared
-
8 ounces sour cream - light or regular
-
1/4 cup white wine vinegar
-
10 flour tortillas - white or wheat, 7-9