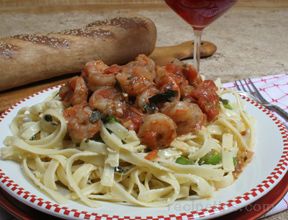 Directions
Toss together shrimp, salt and red pepper flakes in medium bowl.
Heat 3 tablespoons olive oil in large skillet over medium high heat.
Add shrimp and sauté for about 2-4 minutes, stirring occasionally, and just cooked through.
Transfer to plate or bowl, set aside.
Add onion to same skillet, add 1 tablespoon olive oil if needed. Sauté onion about 5 minutes.
Add tomatoes with juice, wine, garlic and thyme. Reduce heat to medium low and allow sauce to simmer for 10-15 minutes. It will reduce and thicken slightly.
Return shrimp to skillet, with any accumulated juice, into the tomato mixture. Stir to combine. Cook for 1-2 more minutes.
Stir in basil. Season with more salt and pepper in needed.
Serve hot. Very good with lemon pasta recipe and crusty bread.
Garnish with fresh parsley if desired.
Prep Time: 15 minutes
Cook Time: 20 minutes
Container: skillet, medium bowl
Servings: 4
Serving Size: cup


Ingredients
-
1 pound shrimp - med.-large - peeled & deveined
-
1 teaspoon salt
-
1 teaspoon red pepper flakes or more to taste
-
3 tablespoons olive oil
-
1/2 red onion - diced
-
14 1/2 ounces can Italian diced tomatoes
-
1/2 cup white wine - dry
-
2 cloves garlic - chopped
-
2 teaspoons lemon thyme - chopped
-
4 tablespoons fresh basil - chopped
-
fresh parsley - for garnish (optional)