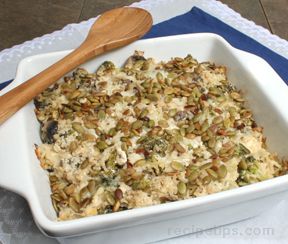 Directions
Preheat oven to 375° F. Lightly spray baking dish with Pam cooking spray.
In bowl, mix together egg, flour, cottage cheese, rice, pepper, lemon thyme, and 2 tablespoons cheese. Set aside.
Heat butter and oil over medium heat in skillet.
Add onion and saute until lightly browned (about 10 minutes). Add garlic and saute 1 minute. Add broccoli and mushrooms and 1 tablespoon fresh lemon thyme.
Cover and cook for 10 minutes.
Remove from heat, add cottage cheese mixture and blend well.
Spoon mixture into prepared baking dish. Sprinkle the rest of parmesan cheese (2 tablespoons) plus seeds on top.
Bake 25-30 minutes. Serve hot.
Prep Time: 20 minutes
Cook Time: 25 minutes
Container: 9x13 or 9x9 square baking dish, large mixing bowl, medium skillet with cover
Servings: 8
Serving Size: 1 cup


Ingredients
-
1 egg
-
1 tablespoon flour
-
2 cups cottage cheese - fat free
-
3 cups brown rice - cooked
-
ground black pepper to taste
-
1 tablespoon lemon thyme - fresh, minced
-
4 tablespoons parmesan cheese or Asiago cheese, grated
-
1 tablespoon unsalted butter
-
1 tablespoon olive oil
-
1 onion - chopped
-
3 cloves garlic - minced
-
1 package frozen broccoli (10 oz) - thawed, drained
-
1 can mushrooms (8 oz) - sliced
-
2 tablespoons sunflower seeds or pumkins seeds, toasted
-
1/2 lemon - juiced