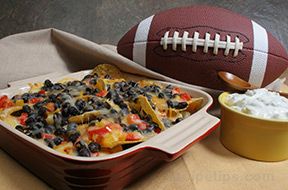 Directions
Preheat oven to 350° F.
In mixing bowl, combine chicken and lime juice, salt and pepper to taste.
In skillet, heat 1 1/2 tablespoons oil over medium-high heat until hot. Saute bell peppers until crisp-tender; approximately 3 minutes; transfer to a bowl.
Heat 1/2 tablespoons oil in the skillet and cook garlic, cumin, and oregano; stir approximately 1 minute.
Sir in beans and cook until heated through; season with salt and pepper.
Layer tortilla chips on the bottom of the baking dish, then sauteed peppers, beans, chicken, and cheese; all in that order. Repeat, starting with a layer of tortilla chips.
Place in the oven and bake until cheese is melted.
While the nachos are baking, mix the sour cream and pickled jalapenos in a small dish. Serve as a sauce for the nachos. Add more jalapenos to reach desired heat.
Prep Time: 20 minutes
Cook Time: 10 minutes
Container: skillet, 3 quart baking dish
Servings: 12


Ingredients
-
1 1/2 cups cooked, boneless, skinless chicken breast - chopped into small pieces
-
3 tablespoons lime juice
-
Salt and pepper
-
2 tablespoons vegetable oil
-
1 red bell pepper
-
1 yellow bell pepper
-
1 clove garlic, finely chopped
-
1/4 teaspoon ground cumin
-
1 teaspoon dried oregano
-
3/4 cup black beans, rinsed and drained
-
Tortilla chips
-
2 cups 3 pepper cheese, or jalapeno cheese
-
8 ounces sour cream
-
4 teaspoons pickled jalapeno, finely chopped