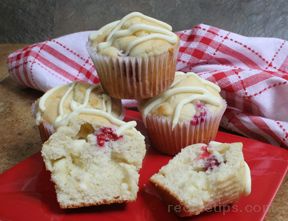 Directions
Preheat oven to 400°F. Place paper liners in a muffin pan.
Lightly beat the egg in a medium-size mixing bowl; then stir in the biscuit mix, milk, vanilla, oil, and sugar and blend until smooth. You may also use a hand mixer to combine the ingredients in this step.
Add the white chocolate chips and the fresh raspberries and gently fold until combined.
Fill the muffin cups 2/3 full with the batter and bake for 15 minutes or until golden brown.
Remove the muffins to a wire rack and allow them to cool completely.
Melt 1/2 cup of white chocolate chips in a microwave for approximately 30 seconds. Stir until smooth.
Drizzle the white chocolate over each muffin.
Prep Time: 10 minutes
Cook Time: 15 minutes
Container: muffin pan, medium mixing bowl, hand mixer, small microwave safe bowl
Servings: 12


Ingredients
-
1 egg
-
2 cups biscuit mix
-
2/3 cup milk
-
1/2 cup white chocolate chips
-
1/3 cup sugar
-
2 teaspoons vegetable oil
-
1/2 teaspoon vanilla extract
-
1 cup raspberries - fresh
-
1/2 cup white chocolate chips