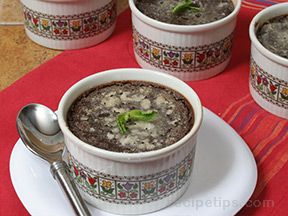 Directions
Whisk together the cream, milk and vanilla in a small saucepan over medium heat.
Add in the chocolate baking squares.
Heat until it starts to steam, do not boil, and chocolate is melted - approximately 10-15 minutes.
Whisk the egg yolk together in a medium bowl with 1 tablespoon of sugar.
Slowly pour the chocolate mixture into the egg mixutre, whisking continuously.
Pour the mixture back into the sacuepan and heat over medium heat, stirring often, until it thickens and coats the back of a spoon.
Preheat oven to 300°F.
Pour into custard cups.
Place the cups in a large baking pan with 2 inch sides.
Add enough water to come 1/2 way up the sides of the cups.
Bake until the custard is set, approximately 1 hour.
Remove the custard cups from the water bath and allow to cool.
Cover with plastic wrap and refrigerate.
Before serving, sprinkle each top with 1/2 tablespoon of sugar.
Place them under the broiler in the oven for 2 minutes just to caramelize the sugar.
Serve immediately.
Prep Time: 25 minutes
Cook Time: 1 hour
Container: small saucepan, medium mixing bowl, 4 (4 ounce) ramekins or custard dishes
Servings: 4


Ingredients
-
1 cup heavy whipping cream
-
1/4 cup whole milk
-
2 teaspoons vanilla extract
-
4 ounces semi-sweet baking chocolate
-
4 egg yolks
-
1 tablespoon sugar
-
2 tablespoons sugar - divided