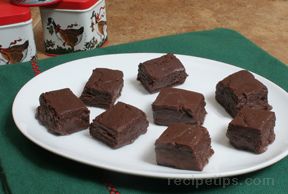 Directions
Line the baking pan with foil. Grease the foil with 1/2 tablespoon of butter and set the pan aside.
Melt all the chocolate chips and 1 tablespoon of butter in a heavy saucepan over low heat. Cook and stir until chocolate and butter are melted and evenly blended.
Remove from the heat and add the sweetened condensed milk and almond extract. Stir until all ingredients are blended together.
Pour the fudge into the foil lined baking pan. Refrigerate uncovered until it is set.
Remove the fudge from the pan by lifting it out with the foil. Cut into approximately 1 inch squares.
Store in an airtight container in the refrigerator.
Prep Time: 15 minutes
Cook Time: 15 minutes
Container: 11 x 7 baking pan
Serving Size: 1 piece


Ingredients
-
1/2 tablespoon butter - for greasing foil
-
1 tablespoon butter - for the fudge
-
2 cups chocolate chips - semi-sweet
-
1 cup chocolate chips - milk chocolate
-
1 can sweetened condensed milk
-
2 teaspoons almond extract