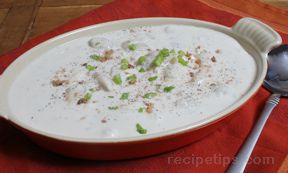 Directions
Fill one saucepan with water and bring it to a boil.
Add onions and cover. Remove from the heat and let them sit for 5 minutes.
Drain the onions, allow to cool and then peel the onions. Set them aside.
In another saucepan, melt butter or margarine. Add the flour and whisk in the chicken broth in a steady stream.
Continue whisking over medium heat until thickened, add the cream and continue whisking.
Add the thyme, salt, pepper and onions.
Reduce the heat to low and simmer until the onions are tender and the sauce is thick, approximately 45 minutes.
When ready to serve, garnish with onions and bacon bits if desired.
Prep Time: 20 minutes
Cook Time: 45 minutes
Container: two medium saucepans


Ingredients
-
2 pounds pearl onions
-
3 tablespoons flour
-
3 tablespoons butter or margarine
-
1 1/2 cups chicken broth
-
1 cup heavy whipping cream
-
3 sprigs thyme - stemmed and rough chopped
-
1 teaspoon salt
-
1/2 teaspoon pepper
-
2 tablespoons green onions - chopped for garnish if desired
-
bacon bits for garnish if desired