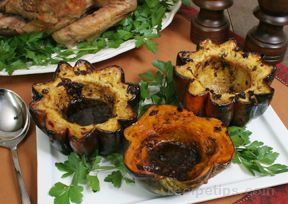 Directions
Preheat oven to 400°F.
Brush the tops and insides of the squash with 2 tablespoons of olive oil.
Place squash halves cut side up on a rimmed baking sheet.
Whisk 4 tablespoons of olive oil with the balsamic, honey, pepperoncini, thyme and salt.
Pour into each squash, dividing evenly.
Brush a small amount of the glaze up the sides of each squash.
Bake until the squash are tender and browned, approximately on hour, brushing occasionally with the glaze as it bakes.
Serve warm.
Prep Time: 20 minutes
Cook Time: 1 hour
Container: large rimmed baking sheet, small brush for basting
Servings: 6


Ingredients
-
3 squash - butternut or acorn, halved and seeded
-
6 tablespoons olive oil
-
1/4 cup balsamic vinegar
-
3 tablespoons honey
-
2 tablespoons peperoncini - minced
-
3 teaspoons thyme
-
1 teaspoon salt