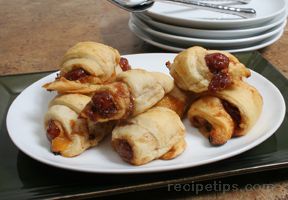 Directions
In a medium skillet, heat the butter and oil on medium heat.
Add the chopped onion and saute for 5 minutes.
Add the mini hot dogs or smokies.
Stir to combine and heat through.
Add the barbeque sauce and cherry jelly.
Stir occasionally until the jelly is blended and heated through.
Unroll the crescent rolls and lay them out onto a cutting board. Cut down the center of each triangle to form two triangles.
Starting at the wide end of each crescent, place a small slice of cheese, one smokie and a teaspoon of sauce.
Roll the mini hot dog or smokie up to the point of the crescent.
Place on a cookie sheet that has been sprayed with a non stick cooking spray.
Bake in a 375°F oven for appoximately 10 minutes or until the crescent is puffed and nicely browned.
Serve warm.
Prep Time: 25 minutes
Cook Time: 10 minutes
Container: large baking sheet, skillet
Servings: 12


Ingredients
-
1 tablespoon unsalted butter
-
1 tablespoon olive oil
-
1/3 cup onion - chopped fine
-
1 package Little Smokies - cheddar cheese flavor
-
4 tablespoons barbecue sauce - your favorite variety
-
2 tablespoons cherry jelly
-
2 packages refrigerated crescent rolls
-
36 slices Cheddar cheese - sharp, thin sliced about 1/2 inch long