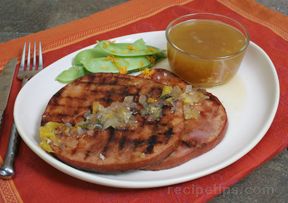 Directions
Place the ham in a shallow baking dish (9- x 13-inch works well).
In a mixing bowl, combine the remaining ingredients. Stir until well mixed.
Pour the mixture over the ham and marinate for 1 to 2 hours.
Preheat the grill to medium heat.
Remove the steaks from the marinade and place directly on the grill.
Grill each side until nicely borwned or until grill marks appear (5-10 minutes on each side).
Meanwhile, pour the marinade into a saucepan and bring to a boil; then reduce the heat and simmer 15-20 minutes, allowing the sauce to cook down and thicken slightly.
Serve the sauce on the side with the ham steaks.
Prep Time: 15 minutes
Cook Time: 25 minutes
Container: 9 -x 13-inch baking dish, medium mixing bowl, medium saucepan


Ingredients
-
1 pound ham steak - sliced thick
-
1 cup chicken broth
-
1/4 cup orange marmalade
-
1/4 cup honey
-
1 onion - chopped
-
1 clove garlic - minced
-
1 tablespoon soy sauce
-
1 tablespoon ginger - powdered
-
1 orange - zested and juiced