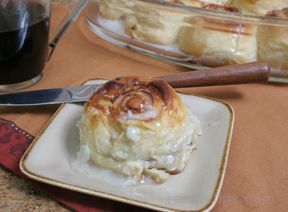 Directions
Roll out the bread loaf into a 12x7 inch oblong shape.
Spread 2 tablespoons of butter on the loaf.
Sprinkle with cinnamon and the brown sugar.
Roll, starting on the long side, as tight as possible.
Slice into 1 1/2 inch thick slices.
Place cut side down in a baking pan. Cover with a damp cloth and allow them to rise for 1-2 hours or overnight.
Bake at 350° F. for 30 minutes.
In a small bowl, mix together the powdered sugar and milk to form a glaze.
When finished baking, allow the rolls cool slightly, then drizzle with the powdered sugar glaze.
Can be served warm or at room temperature.
Prep Time: 15 minutes
Cook Time: 30 minutes
Container: 9 x 13 baking dish
Servings: 15


Ingredients
-
1 frozen bread dough loaf - thawed
-
2 tablespoons butter or margarine
-
1/4 cup brown sugar
-
2 tablespoons cinnamon
-
1 cup powdered sugar
-
2 tablespoons milk