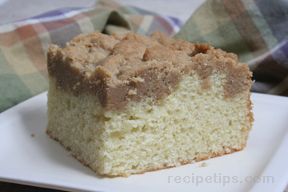 Directions
Preheat oven to 350° F.
Butter a 9x13 baking pan.
In a mixing bowl, combine 2 1/2 cups of flour, baking powder, baking soda and 1/2 teaspoon of salt. Set aside.
Beat together 10 tablespoons of butter and sugar until creamed and fluffy.
Add eggs, one at a time, until each is incorporated nicely.
Mix in the vanilla.
Gradually add in the flour mixture and then the sour cream.
Spread the batter into the buttered pan.
In a small bowl, add 3 cups of flour, brown sugar, cinnamon and 1 teaspoon of salt.
Cut in 1 3/4 cups of butter with a pastry blender or fork until crumbly.
Sprinkle this over the cake batter.
Bake for 35-40 minutes or until done.
Cool on a wire rack.
Cook Time: 40 minutes
Container: 9x13 baking pan, 2 mixing bowls, 1 small bowl
Servings: 15


Ingredients
-
5 1/2 cups flour - divided
-
2 cups 5 tablespoons butter - softened and divided
-
1 teaspoon baking powder
-
1 teaspoon baking soda
-
1 1/2 teaspoons salt - divided
-
1 cup sugar
-
3 eggs
-
1 1/4 cups sour cream
-
1 teaspoon vanilla extract
-
1 cup brown sugar - light and packed
-
2 tablespoons cinnamon