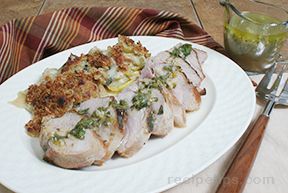 Directions

SAUCE:
Combine garlic, jalapeño, and vinegar in medium bowl.
Whisk in parsley, oregano, lime juice, and orange juice.
Whisk in olive oil, and season with salt and pepper.
Mix well and set aside at room temperature to allow the flavors to blend.

PORK:
Place the pork tenderloin in a resealable plastic bag and add the chimichurri sauce; however, reserve 1/2 to 1 cup of the sauce to serve on the side. Marinate the pork in refrigerator for 30 minutes.
Preheat grill to medium heat.
Remove pork from marinade and place directly on the grill. Discard the marinade. Season the tenderloin with salt and pepper. Grill 6-8 minutes until nicely browned. Turn and season again with salt and pepper. Grill another 5 minutes or until done.
Remove the pork from the grill, cover with foil, and let it rest for 5 minutes.
Slice the tenderloin into half-inch thick slices, place on serving platter, and drizzle with some of the reserved sauce.
Garnish with fresh parsley if desired and serve with reserved chimichurri sauce on the side.
Prep Time: 20 minutes
Cook Time: 15 minutes
Container: 1 gallon plastic resealable bag, medium mixing bowl
Servings: 6


Ingredients
-
4 garlic cloves, peeled, minced
-
1 jalapeño - fresh or jarred, seeded, chopped
-
1/4 cup red wine vinegar
-
1/2 cup parsley - fresh, chopped
-
1/2 cup oregano - fresh, chopped, or 2 teaspoons dried, crushed
-
3 limes - juiced
-
1 cup olive oil
-
1/2 cup orange juice
-
1 teaspoon salt and pepper (for sauce) plus more for seasoning pork tenderloins
-
2 pork tenderloins or 1 large pork tenderloin