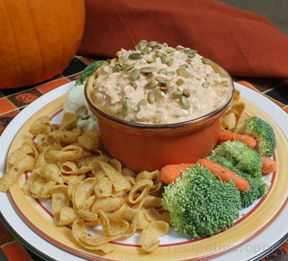 Directions
In a large mixing bowl, beat together the cream cheese, sour cream, canned pumpkin, taco seasoning, and garlic powder until smooth.
Stir in turkey, onions, red peppers, black olives, and jalapenos.
Mix to combine.
Cover and refrigerate until ready to serve.
Serve in a pumpkin cut in half and hollowed out or a festive dish.
Serve with vegetables or corn chips.
Prep Time: 20 minutes
Cook Time: 0 minutes
Container: small pumpkin (hallowed out) or a serving bowl
Servings: 24


Ingredients
-
8 ounces cream cheese - softened
-
1/2 cup sour cream
-
3/4 cup canned pumpkin
-
3 tablespoons taco seasoning mix
-
1 dash garlic powder
-
1/3 cup turkey - smoked and chopped
-
3 green onions - chopped
-
1/2 red peppers - chopped
-
1 tablespoon jalapeno - fresh or jarred, chopped
-
2 1/4 ounces black olives - chopped
-
1/4 cup sunflower or pumpkin seeds for garnish - optional
-
Fresh vegetables or corn chips for dipping