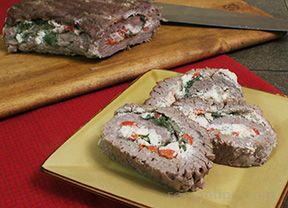 Directions
Preheat oven to 350ºF.
Lay steak out flat. Salt and pepper to taste.
In a mixing bowl, combine cream cheese, roasted red peppers, garlic, oregano, and cracked pepper. Mix until smooth.
Spread cream cheese mixture over the steak.
Sprinkle on the spinach and feta.
Roll the steak up from the long edge, like a jellyroll, and secure with kitchen twine.
Brush steak with olive oil.
Place on baking sheet and bake 35 minutes or until cooking thermometer reaches 145ºF.
Remove from oven and allow to rest for 5 minutes.
Place on a serving platter and remove the kitchen twine.
Cut into 1 inch slices and serve warm.
Prep Time: 30 minutes
Cook Time: 35 minutes
Container: Non-stick baking sheet with sides.
Servings: 8
Serving Size: 1 slice


Ingredients
-
1 1/2 pounds (to 2 lb.) flank steak
-
4 ounces cream cheese, softened
-
1 jar (12 oz) roasted red peppers, drained and chopped
-
3 cloves garlic, chopped
-
1 tablespoon dried oregano
-
Fresh cracked pepper, to taste
-
Spinach
-
4 ounces feta cheese
-
Kitchen twine
-
Olive oil