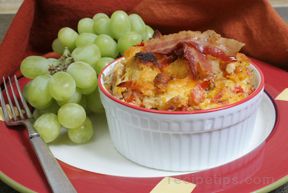 Directions
In a large bowl, toss together the croutons, cheese, bacon or ham and tomatoes.
Pour into a greased baking dish or individual dishes.
In a medium bowl, whisk together the milk, eggs, mustard, onion powder and pepper.
Pour mixture over croutons in the baking dish.
Cover and refrigerate overnight.
Bake, uncovered, in a 350° F oven for approximately 1 hour if using a large baking dish or 15 minutes for individual baking dishes, or until the egg is set around the top and a knife inserted into the center comes out clean.
Note: You may also add 2 cups of frozen broccoli, thawed and drained to the crouton mixture. You will need to add 5-10 minutes more baking time.
Prep Time: 15 minutes
Cook Time: 1 hour
Container: round or square 2 quart casserole dish or 6 individual 5 inch round baking dishes, mixing bowl, medium bowl
Servings: 8


Ingredients
-
2 cups seasoned croutons - boxed or homemade
-
2 cups Cheddar cheese - shredded
-
4 slices bacon - cooked crisp and crumbled or 1 1/2 cups ham - diced
-
1 medium tomato, diced
-
2 cups milk
-
3 eggs - beaten
-
1/2 teaspoon prepared mustard
-
1/8 teaspoon onion powder
-
salt and pepper to taste