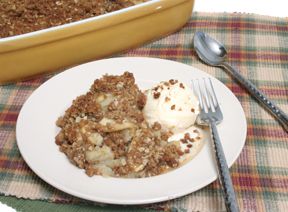 Directions
Preheat the oven to 375°F. Butter the bottom and sides of the baking dish.
Place the sliced apples in the bottom of the baking dish and spread out evenly.
Combine all the remaining ingredients together in another bowl and mix until well blended. The mixture should have a crumbly texture.
Sprinkle the crumbly mixture evenly over the apples. Place in the oven and bake for 30 minutes or until apples are tender when poked and the topping is golden brown and crispy.
Remove from the oven and serve while warm. Serve with a scoop of ice cream for an extra delicious treat.
Prep Time: 30 minutes
Cook Time: 30 minutes
Container: 9 x 11 baking dish
Servings: 10


Ingredients
-
6 cups sliced Granny Smith apples (approx. 6 med.)
-
1 1/4 cups brown sugar
-
3/4 cup flour
-
3/4 cup quick oats
-
1/2 cup butter
-
1 teaspoon nutmeg
-
1 1/4 teaspoons cinnamon