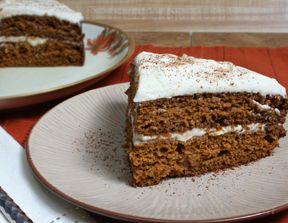 Directions
CAKE:
Combine cake mix, pumpkin, soda, eggs, water and applesauce.
Beat until smooth.
Spread into 2 ungreased round cake pans.
Bake at 350° F for 25-30 minutes.
Allow to cool 10 minutes and then turn them out on racks to cool completely.
When cool, spread cream cheese frosting on top of the first cake.
Then place the second cake on top of the frosted first cake and frost the top of the second cake.
You can frost the sides of the cake as well, if desired.
FROSTING:
Cream together the butter, crean cheese and vanilla.
Graduall add pawdered sugar.
If the mixture is too thick, thin it out with a little milk.
Prep Time: 15 minutes
Cook Time: 30 minutes
Container: 2 8' round cake pans, mixer
Servings: 10


Ingredients
-
CAKE:
-
1 package gingerbread cake mix
-
1 pound canned pumpkin
-
2 teaspoons baking soda
-
2 eggs
-
1/2 cup applesauce
-
1/3 cup water
-
FROSTING:
-
1/2 cup butter - softened
-
8 ounces cream cheese - softened
-
1 teaspoon vanilla
-
1 pound powdered sugar
-
milk to thin frosting