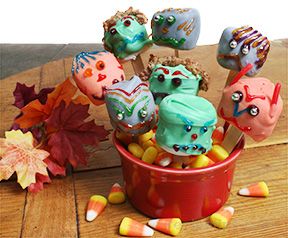 Directions
In a microwave safe bowl, pour in one bag of white chocolate chips and microwave on medium for 30 seconds.
Stir the chips, if not quite melted microwave for an additional 30 seconds and then stir again.
Repeat until the chocolate is melted and smooth.
Add food coloring of choice and stir to combine.
You may need to add a couple drops of canola oil to the chocolate if it turns clumpy. Microwave for short amounts of time and stir inbetween heating to get the chocolate to smooth out.
Insert popsicle sticks into each marshmallow.
Dip and swirl marshmallows into the melted chocolate until covered.
Lay each out onto the waxed paper to dry.
Once set, use decorating gels, colored frostings, licorice or whatever you like that is edible to create monster faces. Be creative and have fun!
Prep Time: 1 hour
Container: medium microwave safe bowl, waxed paper
Servings: 12


Ingredients
-
12 ounces white chocolate chips
-
large marshmallows
-
Food coloring of choice
-
popsicle sticks
-
Tubes of colored frosting
-
Tubes of colored gels
-
Licorice and other candies to decorate