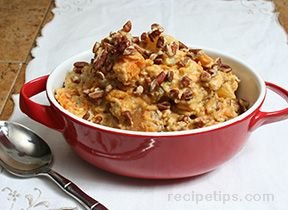 Directions
Wash potatoes if using fresh. Cook until tender but firm. If using canned, drain.
Peel cooked potatoes and cut into bite sized chunks.
In a large bowl, toss potatoes, pineapple, nuts and orange juice. Canned sweet potatoes are soft so toss them gently so they don't break apart.
In a small bowl, combine the mayo, milk, vinegar, curry powder, orange peel and tarragon.
Pour the over the potato mixture. You may not need to use all of it.
Toss gently and chill for several hours.
Serve chilled.
Prep Time: 30 minutes
Cook Time: 30 minutes
Container: large bowl, small bowl
Servings: 6


Ingredients
-
4 medium sweet potatoes or 1 (40 oz.) canned sweet potatoes
-
20 ounces pineapple chunks, drained
-
1/2 cup slivered almonds
-
1/2 cup pecans - chopped
-
1 cup mayonnaise
-
2 tablespoons milk
-
1 teaspoon white wine vinegar
-
1 teaspoon curry powder
-
1/2 orange - grated
-
2 teaspoons fresh tarragon - chopped or 1/2 teaspoon dried