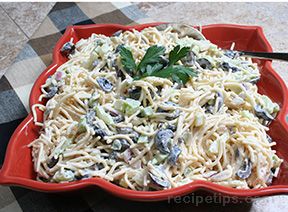 Directions
Place cooked vermicelli in large bowl and add the Ac'cent flavor enhancer, seasoned salt, lemon juice, vegetable oil.
Stir to combine. Cover and refrigerate overnight.
Remove pasta mixture from the refrigerator and add diced pimentos, green pepper, red onion, celery, black olives and mayonnaise.
Mix all, chill for one hour and serve.
Prep Time: 20 minutes
Cook Time: 10 minutes
Container: large salad bowl
Servings: 11


Ingredients
-
16 ounces vermicelli pasta - broken into 2" pieces and cooked according to package directions
-
1 tablespoon Ac'cent flavor enhancer
-
1 tablespoon seasoned salt
-
3 tablespoons lemon juice
-
4 tablespoons vegetable oil
-
1 (4 oz.) diced pimento
-
1 cup green pepper - chopped
-
1/2 red onion - chopped
-
1 cup celery - thinly sliced
-
1 cup black olives - chopped
-
1 1/2 cups mayonnaise