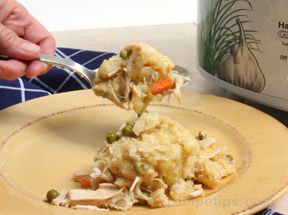 Directions
Place the chicken breast on the bottom of a 5 or 6-quart slow cooker. Top with soup, butter, vegetables, and onion.
Pour the chicken broth over the soup mixture. The chicken should be covered; if not, add more broth.
Place the cover on the slow cooker and turn on high. Cook on high for 5 to 6 hours.
Approximately 1 hour before serving, remove the cover and pull the chicken apart in small pieces or shred.
Tear the refrigerator biscuit dough into pieces and place it on top of the chicken mixture in the slow cooker.
Replace the cover and cook another hour or until the biscuits are done all the way through.
To serve, spoon the chicken and biscuits onto plates directly from the slow cooker.
Prep Time: 20 minutes
Cook Time: 6 or more hours
Container: 5 or 6-quart slow cooker
Servings: 8


Ingredients
-
2 1/2 pounds boneless, skinless chicken breast
-
2 cans (10.75 oz. each) cream of chicken soup
-
2 tablespoons butter or margarine
-
1 cup diced carrots
-
1 cup frozen peas
-
1 small onion, minced or 2 tsp. onion powder
-
3/4 cup chicken broth or water
-
2 packages (10 oz. each) refrigerated biscuit dough