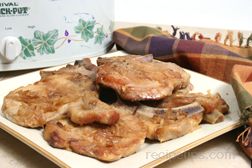 Directions
Lightly brown both sides of the pork chops in a nonstick skillet using a small amount of oil. Brown the chops for approximately 3 minutes on each side.
Place the pork chops into a 5-quart slow cooker.
Mix the chicken broth and soup mix until well blended and then pour over the pork chops.
Place the cover on the slow cooker and turn the heat on low. Cook for 6 to 8 hours.
When done, remove the pork chops and serve with potatoes or rice.
Prep Time: 30 minutes
Cook Time: 6 or more hours
Container: 5-quart slow cooker
Servings: 6


Ingredients
-
6 or 8 pork chops
-
1 can chicken broth, 14 oz.
-
1 packet dry onion soup mix