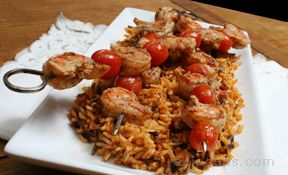 Directions
CREOLE SHRIMP KEBABS:
If using wooden skewers, soak for 30 minutes in water.
Place the shrimp in a medium mixing bowl; then in a small mixing bowl, whisk together the Old Bay Seasoning, olive oil, and garlic powder.
Pour over the shrimp and marinate in the refrigerator for 20-30 minutes.
Alternate the shrimp and tomatoes onto the skewers.
Place directly onto a grill heated to medium heat and cook for approximately 5 minutes on each side until the shrimp is pink and nicely grilled.
Serve warm with tomato rice.

TOMATO RICE:
Saute the rice in oil in a saucepan over medium-high heat for 2-3 minutes.
Stir in the tomato paste and sauté for 2 minutes more.
Add the chicken stock or bouillon and bring to a boil.
Reduce the heat, cover, and cook for 20-30 minutes, or until the liquid is absorbed.
Add the sun-dried tomatoes.
Add salt and pepper to taste.
Prep Time: 20 minutes
Cook Time: 35 minutes
Container: 4 skewers, grill, medium mixing bowl, small mixing bowl, saucepan
Servings: 4


Ingredients
-
CREOLE SHRIMP:
-
1 pound medium to large shrimp - peeled
-
1 tablespoon Old Bay Seasoning
-
2 tablespoons olive oil
-
salt and pepper (to taste)
-
1 teaspoon garlic powder
-
1 pint grape tomatoes
-
TOMATO RICE:
-
1 cup basmati rice
-
1 tablespoon olive oil
-
1 tablespoon tomato paste
-
2 cups chicken stock or bouillon
-
1/4 cup sun dried tomatoes in oil - chopped