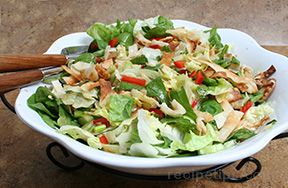 Directions
DRESSING:
Combine 1/4 cup water, sugar, ketchup, soy sauce, ginger and vinegar in saucepan.
Blend cornstarch with 2 Tablespoons water and whisk into dressing mixture. Simmer until thickened; 3-4 minutes. Set aside to cool.
SALAD:
Cut wonton wrappers in 1/4" strips and fry in oil until golden brown; 2-3 minutes. Stir gently as they cook. Drain on paper towel.
Marinate chicken in favorite ginger/sesame marinade for 30 minutes.
Place chicken on grill, cook until no longer pink in the center; approximately 10 minutes each side, depending on thickness of breast.
Remove, cool slightly, dice into bite size pieces.
In large salad bowl, place greens, chicken, celery, green onions, sesame seeds and slivered almonds; mix lightly.
Pour dressing over salad and toss to coat.
Sprinkle fried wonton strips on top. Serve immediately.
Prep Time: 20 minutes
Cook Time: 20 minutes
Container: saucepan
Servings: 6
Serving Size: 2 cups


Ingredients
-
DRESSING:
-
1/4 cup water
-
3 tablespoons sugar
-
3 tablespoons ketchup
-
1 tablespoon soy sauce
-
1 tablespoon grated fresh ginger
-
1/2 cup rice vinegar
-
1 teaspoon cornstarch
-
2 tablespoons water
-
SALAD:
-
1/2 package wonton wrappers
-
4 whole, boneless, skinless chicken breasts
-
1 package fresh spinach leaves, rinsed, patted dry
-
1 small head iceberg lettuce
-
2 stalks celery
-
4 green onions
-
1/4 cup red pepper, diced
-
2 tablespoons toasted sesame seeds
-
4 tablespoons sliced, toasted almonds