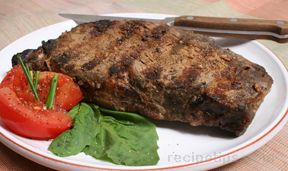 Directions
Mix garlic, salt, cumin, chile powder, and pepper in a small bowl.
Whisk in the olive oil.
Allow steaks to stand at room temperature for 20 minutes.
Brush the rub all over the steaks.
Grill over direct medium heat until cooked to desired doneness (approximately 6 minutes each side for medium rare). Turn only once.
Allow to rest for 5 minutes before serving.
Prep Time: 10 minutes
Cook Time: 10 minutes
Container: small mixing bowl, grill
Servings: 4


Ingredients
-
4 rib eye steaks, 1-inch thick
-
1 teaspoon garlic - minced
-
1 teaspoon salt
-
1/2 teaspoon ground cumin
-
1/2 teaspoon ground black pepper
-
1/2 teaspoon chile powder
-
1/2 cup olive oil