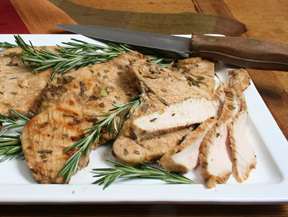 Directions
Mix the first 9 ingredients in a resealable plastic bag.
Add the turkey tenderloins to the marinade, seal the bag, and shake to mix. Marinate the turkey for at least 1 hour.
Remove the turkey from the marinade and place it on the grill over medium heat. Grill for 5 minutes; then turn to grill the other side an additional 3-5 minutes.
Brush the turkey with the marinade during grilling.
Remove from the grill and serve immediately.
Prep Time: 10 minutes
Cook Time: 10 minutes
Container: grill, large resealable plastic bag
Servings: 4


Ingredients
-
2 green onions - chopped
-
1/2 cup orange juice
-
3 tablespoons olive oil
-
2 tablespoons fresh rosemary - chopped
-
2 tablespoons balsamic vinegar
-
1/2 lemon - zested
-
1/2 lemon - juiced
-
1 tablespoon honey
-
1/2 teaspoon salt
-
4 turkey tenderloins