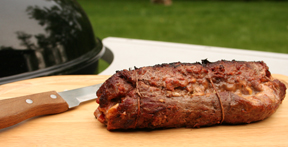 Directions
Lay steak out flat. Salt and pepper to taste.
In a mixing bowl, combine the roasted red pepper and cream cheese. Mix until smooth.
Spread cream cheese mixture over the steak.
Sprinkle on the spinach and feta.
Then add the diced artichokes and tomatoes.
Finally, sprinkle all with the shredded cheese.
Roll the steak up from the long edge, like a jellyroll, and secure with kitchen twine.
Heat grill to medium heat.
Grill steak on all sides until browned, approximately 12 minutes total.
Reduce heat to low and brush steak with olive oil.
Rotate and brush the steak every 10 minutes for 20-30 minutes or until the internal temperature reaches 145°.
Remove from heat and allow to rest for 5 minutes.
Place on a serving platter and remove the kitchen twine.
Cut into 1 inch slices and serve warm.
Prep Time: 15 minutes
Cook Time: 40 minutes
Container: grill, mixing bowl, kitchen twine
Servings: 6


Ingredients
-
2 pounds flank steak
-
1/2 cup roasted red pepper - chopped
-
3 ounces cream cheese - softened
-
5 ounces fresh spinach - stems removed and chopped
-
1/2 cup feta cheese - crumbled
-
1/2 cup Italian marinated artichoke hearts - diced
-
1/2 cup roma tomatoes - diced
-
1/2 cup 4-blend cheese - shredded
-
salt and pepper to taste
-
4 tablespoons olive oil