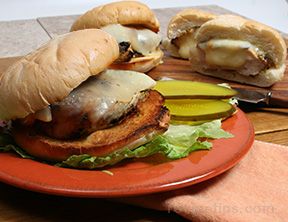 Directions
Place chicken breasts in a resealable large storage bag.
Pour the marinade over chicken.
Marinate in the refrigerator for 2-6 hours.
In a small bowl, combine the mayonnaise, marmalade, lime juice and zest, jalapeno, salt and pepper.
Keep in the refrigerator until ready to serve sandwiches.
Heat grill to medium, grill chicken until no longer pink in the center - approximately 10-15 minutes.
Sprinkle split rolls with olive oil.
Grill until lightly toasted.
Place slice of muenster cheese on top of the chicken until melted.
Assemble sandwiches with chicken and buns.
Serve with mayonnaise dipping sauce.
Note: If the chicken breasts are large you may want to slice them in half to create two sandwiches.
Prep Time: 15 minutes
Cook Time: 15 minutes
Container: grill, plastic resealable bag, medium mixing bowl, small mixing bowl, food processor
Servings: 4


Ingredients
-
1 cup onion - chopped
-
1/2 cup orange juice
-
1/2 cup fresh oregano leaves
-
1/4 cup olive oil
-
8 cloves garlic
-
3 tablespoons lime juice
-
1 orange - zested
-
2 teaspoons cumin
-
salt and pepper to taste
-
1/2 teaspoon seasoning salt
-
1/2 teaspoon cayenne pepper
-
1 jalapeno - stemmed and seeded
-
1/2 cup fresh cilantro
-
2 pounds boneless, skinless chicken breasts
-
1/4 cup mayonnaise
-
1/4 cup peach marmalade
-
1 teaspoon lime juice
-
1/2 lime - zested
-
salt and pepper to taste
-
1 small jalapeno - chopped
-
4 borillo rolls - split and toasted on the grill
-
4 slices muenster cheese